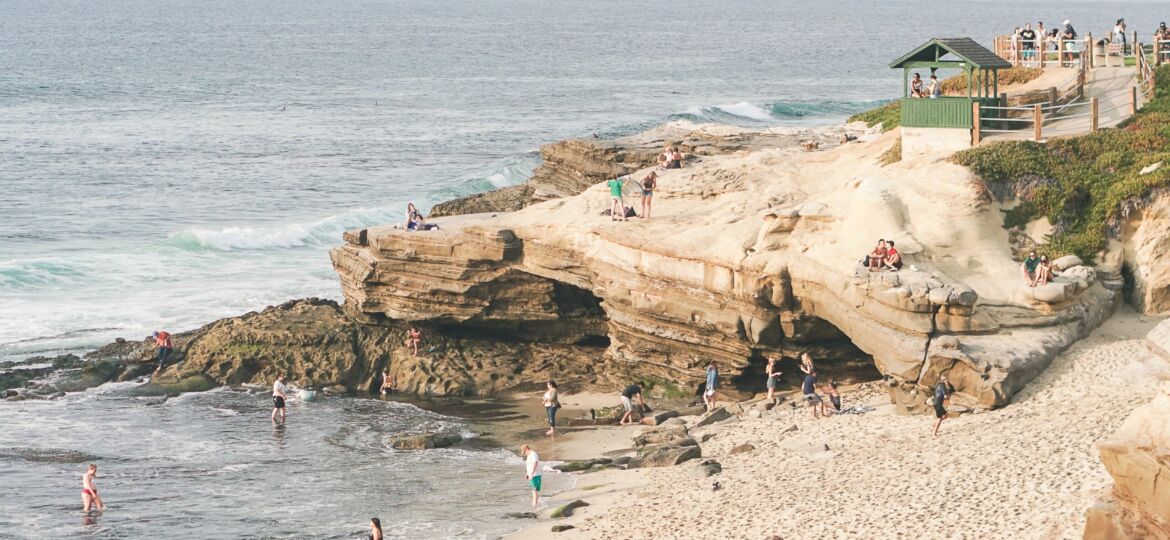 date ideas in san diego
from the all in sd podcast
Whether you're planning a first date or have been married for a decade, going on dates are important. They allow couples to make special memories and get to know each other better. Planning a date isn't always easy though, which is why our San Diego matchmaking team compiled this list — and more! — from Sophy's feature on the All In San Diego podcast. Read on to find out some great date ideas in San Diego!
Picnic DATES
San Diego's warm climate makes it the perfect candidate for year-round picnics. This old school date idea is romantic, casual, inexpensive, and intimate. Preparing for your picnic is also easy: bring a blanket and stick to easy, pre-made foods like sushi or charcuterie kits with a bottle of wine. Here are Sophy's top picnic spots in San Diego:
*Centennial Park in Coronado. Set your picnic up in the grassy area by the ferry landing to appreciate the beautiful view of the downtown skyline. Centennial Park is especially great for late afternoon or early evening picnics where you can watch the sunset. If the evening ends well you can treat your date to a scenic ride on the Coronado ferry!
Carlsbad State Beach. This spot offers stunning views of the Pacific Ocean. Carlsbad State Beach has a spacious grassy area next to the Harbor Fish Cafe, as well as a wide strip of golden sand beach if you'd prefer to do a full beach picnic.
La Jolla Cove. Often called one of the most picturesque locations in California, La Jolla Cove is a dreamy date spot. The golden sand beach and rocky cliffs are often frequented by adorable seals, and it also has a great grassy area for picnics.
Pacific Beach and Mount Soledad. Take in the breathtaking views and enjoy the plentiful amenities at Pacific Beach and Mount Soledad. You'll be able to see the ocean, Mission Bay, and downtown from this fantastic spot. It has everything you need for a picnic date, including ample parking, bathrooms, and a central location.
Activity Dates
One of the best things about activity dates is the lack of pressure! There are activities that you can make longer or shorter as needed depending upon if this is a first date or a 500th date. Sophy recommends farmer's market dates and bowling dates. There are plenty of things to do, see, and talk about!
*Little Italy Mercato (every Saturday from 8am-2pm)
There's so much to do and see at the Little Italy Mercato. Check out the Piazza de Familia for the best food vendors. Dog lovers may enjoy the nearby dog park, but check with your date before bringing your furry friend along.
La Jolla Farmer's Market (at La Jolla Elementary School, every Sunday from 9am-1:30pm)
Strolling through this charming farmer's market is an excellent Sunday morning date. If you feel like extending the date, grab some food from the market and have an impromptu picnic at the nearby La Jolla Cove!
Bowlero is an excellent spot for an upscale bowling experience. Its modern decor and great arcade make it feel like a better date spot than your childhood bowling alley.
'Tourist in Your Own City' Dates
Tourists flock to San Diego from the far corners of the earth for good reason. We live in America's Finest City, take advantage and enjoy San Diego's most popular destinations.
*Seaport Village. This quaint spot is great for a relaxing afternoon date. Breathe in the fresh ocean air as you stroll along the harbor. Be sure to enjoy one of the many fantastic restaurants and cafes, including the only Ben & Jerry's in all of San Diego.
Balboa Park
Arguably the city's most famous park, Balboa Park is packed with things to do and see. Have a romantic stroll through the park's many lanes and gardens, or unleash your inner child at the Fleet Science Centre.
Hotel del Coronado
This iconic landmark boasts beauty and a fascinating history. Those who are interested in science, films, and architecture will all enjoy a trip to the Hotel del Coronado. It's the home of a historic elevator that was installed by Thomas Edison, as well as one of the locations of the Marilyn Monroe film Some Like It Hot. Rent an electric bike to ride around the sprawling grounds in the summer, or enjoy a subtropical ice skating session in the winter.
Traditional Dinner Dates
There's nothing wrong with keeping it old school and planning a classic dinner date. Add a modern flair to your dinner date by choosing a rooftop bar or restaurant. Amazing views will always be guaranteed on a San Diego rooftop bar. Sophy's recommendations include:
*Catania Coastal Italian
A beautiful spot in La Jolla that is ideal for catching the sunset with delicious food and incredible ambiance.
George's at the Cove
It has a gorgeous view of the La Jolla cove, as well as amazing food and drinks.
Mister A's
If romance is your goal, look no further than Mister A's. This old school spot offers spectacular views of the city and is a well-known date spot.
Kettner Exchange
This is the perfect spot for an easy and casual date night. The delicious small plates are perfect for sharing over lighthearted conversation.
Il Fornaio
What could be better than enjoying mouth-watering Italian food while overlooking Del Mar Beach? Il Fornaio offers great small plates and plenty of outdoor seating.
Outdoorsy Dates
Enjoy San Diego's natural beauty by going on an easy beach hike for a daytime date.
*Torrey Pines Glider Port
Incredible views, no entrance fee, good food, and you can walk to the beach. What more can you ask for? Oh yeah, dogs are welcome! And, there's live music on Saturdays!
Torrey Pines State Park
Dramatic cliffs meet the ocean at this stunning park. We recommend the Guy Fleming trail for a date. It's easy, short, and ends with an amazing view regardless of the weather.
Batiquitos Lagoon in Carlsbad
This pretty spot is more of a nature walk than a hike, which makes it a great date spot. Bonus points for finding the hidden swing!
Check out our recent podcast with All In San Diego to find out more details about San Diego's best date spots. And learn more about Sophy: https://sophy.love/our-services/