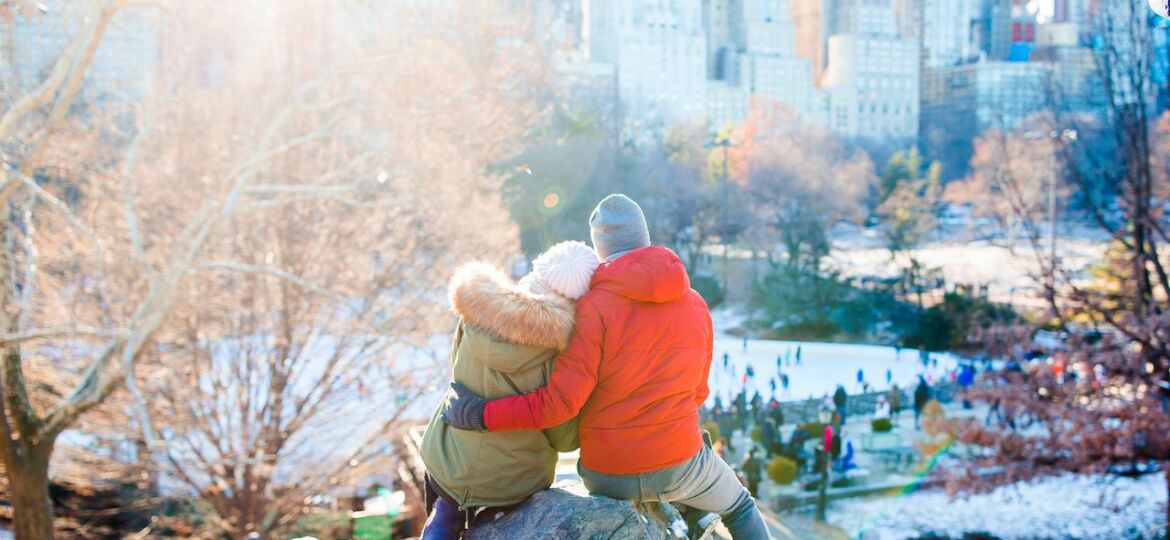 The most romantic winter vacation spots for couples
SUMMER HAS LOST ITS SPARK, and after twenty months of COVID-19 lockdown, so have our romantic relationships. Today's reality is that most couples haven't spent this much time together in modern history, and in less than idyllic circumstances (Zoom meetings while homeschooling, anyone?). Home 24/7, "hot dates" have meant Chinese takeout and rewatching Tiger King. It's time to shrug off bad habits and start thinking about romantic winter getaways.
Sophy Singer, CEO and professional matchmaker at San Diego-based Sophy Love Exclusive Matchmaking, knows something about this pandemic lull. Her business involves intimately getting to know singles and navigating them through the dating scene — even in a pandemic. One of her secrets? It's all about travel.
"When couples hit a lull in the relationship or feel like they need to work on it more, they plan a getaway to jumpstart things," says Singer. "But during the lockdown, our options for getting away were limited — most of us could only do as much as move from the living room to the kitchen. Without the option to do the things that can rekindle a relationship, it can be tough to keep the spark going."
But at long last — go science! — we're veering from that apocalyptic phase of the pandemic and cautiously returning to "normal." And booking one of these romantic winter getaways may be a crucial first step for relationships to rekindle the flame that's been slowly dissipating over the last two years.
"Now, more than ever before, couples must take trips together," explains Singer. "First of all, it finally feels safe — we understand the virus, most people are vaccinated, and the anxiety is much lower. Secondly, things have gotten stale during the pandemic, as we've all been dealing with stress, fear, and monotony."
So let's get to the sparking: Take a trip with your partner to any of these romantic winter getaways below, and watch your romance heat up again.
1. Partake in sexy time in New Orleans, Louisiana
New Orleans — where jazzy melodies and black magic permeate colonial balconies and smoky dive bars — has always been a mood. But in post-COVID times, it also sets the mood. Like this: The Saint Hotel has the Archangel Lucifer Suite (all in red and black with a private stage and dance pole!) and an Archangel Michael Suite (all in white, lots of glass and stainless steel).
Singer agrees that traveling somewhere sexy as a couple is a chief way to reignite bedroom sparks. "Couples, especially ones with kids, tend to 'do it' in their bedroom, almost every single time," she explains. "Same time, same place. After almost two years of lockdown life, that old spot has little to offer in terms of spice and excitement. Having a new environment to be intimate in can heat things — new sounds, smells, colors, lighting, and textures."
Not only does the Saint Hotel need to be christened in late 2021, but so do other big names in The Big Easy, such as The Four Seasons (with its unrivaled Mississippi River views) and Sir Richard Branson's just-opened downtown Virgin Hotel in the colorfully rambunctious French Quarter.
Singer adds one vital note to evade potential mortification, however: "Don't forget the 'Do Not Disturb' sign on your doorknob, and to order room service to share when you're done!" But you're in New Orleans — so if that service is not beignets, you're doing it wrong.
2. Flirt and dance in Nashville, Tennessee
Nashville, beloved for bachelorette parties, greasy chicken, and general raunchiness, is the ultimate city to momentarily forget this strange reality, get your body moving, and shamelessly flirt with your partner (because who doesn't love the flirting stage?).
Singer suggests we follow the science — and the Pabst Blue Ribbon — to Music City. "Listening to music raises your heart rate and breathing, both physiological signs of arousal," says Singer. "Pleasure from music can prepare the body and mind for sexual pleasure because it has a direct effect on bonding and the limbic system of the brain."
If you're looking to ride that dopamine rush with your lover, saddle up to Robert's Western World on Broadway, where cold beer, riveting country music, and fried bologna are constantly flowing. Another surefire way to create some bedroom honky-tonk? A dancing date at the newly opened Twelve Thirty Club, a modern take on a vintage 19th-century supper club, buzzing with DJs, household names, and impromptu jam sessions every night. And once sweaty and sticky from dancing, share some late-night Hattie B's extra-spicy hot chicken…before that extra-spicy end of your night.

ARTICLE ORIGINALLY PUBLISHED – MATADOR NETWORK. WRITTEN BY Olivia Liveng