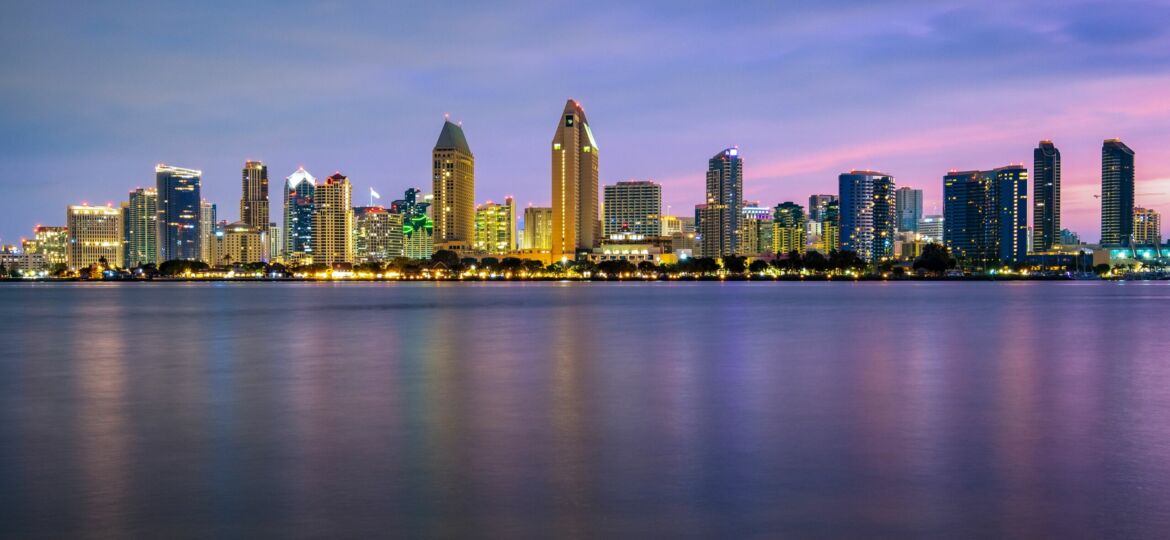 6 minute read –
San Diego, California, is a city renowned for its pristine beaches, year-round sunshine, and vibrant culture, making it a perfect destination for romance. Whether you're planning a first date or looking to reignite the spark with your partner, San Diego offers a plethora of delightful date spots to create lasting memories. From breathtaking sunsets over the Pacific Ocean to charming neighborhoods filled with art and history, here are 6 unique date ideas in San Diego to try out:
Active Beach Day at La Jolla Cove
La Jolla Cove is a breathtaking haven that captures the essence of romance with its picturesque coastline and pristine waters. Start your date with a leisurely stroll along the coastal path, where the mesmerizing ocean views will set a romantic tone. As the sun begins to set, find a cozy spot on the cliffs and watch the sky paint itself in hues of orange and pink.
The sight of seals basking in the sun on the rocks below adds an extra touch of charm to this idyllic location. Bring a light picnic to enjoy whether it be daytime or an evening date.
Culture and Art at Balboa Park
Balboa Park, often called the "Crown Jewel" of San Diego, offers abundant cultural experiences and romantic date settings.  Its allure lies in its multifaceted charm. This expansive urban park boasts an array of features that make it a perfect backdrop for love to blossom. 
The lush and meticulously landscaped gardens, like the enchanting Botanical Building, create a dreamy and tranquil ambiance, offering couples the opportunity to escape the hustle and bustle of daily life and immerse themselves in the beauty of nature. The park's majestic Spanish Colonial Revival architecture, exemplified by the iconic California Tower, provides a sense of timeless elegance and romance that's hard to find elsewhere.
What sets Balboa Park apart is its rich cultural tapestry. With world-class museums and cultural institutions scattered throughout, couples can share meaningful and intellectual experiences together. Whether it's strolling hand-in-hand through the impressive San Diego Museum of Art, exploring the wonders of the natural world at the San Diego Natural History Museum, or marveling at the beauty of the Spanish Village Art Center, Balboa Park offers a plethora of opportunities to deepen your connection through shared appreciation for art, science, and history.
For those seeking a romantic meal, Balboa Park boasts a variety of dining options, from charming cafes to upscale restaurants, where couples can savor delicious cuisine in an idyllic setting. Whether it's a cozy picnic under the shade of a century-old tree or an intimate dinner at The Prado, the park caters to every romantic taste.
In the evening, as the sun sets and the park's historic buildings are illuminated, Balboa Park takes on a magical aura. The ambiance becomes even more romantic, making it an ideal place in San Diego  for a moonlit stroll or simply to sit on a bench, gaze at the stars, and have a heart-to-heart conversation.
A Romantic Escape In Coronado
Accessible by the iconic Coronado Bridge or a relaxing ferry ride, Coronado Island is a slice of paradise perfect for a romantic escape. The island's pristine beaches and elegant architecture set the stage for a dreamy date. Strolling hand-in-hand along the soft sand with the sun setting over the ocean provides the perfect romantic backdrop.
Take a leisurely bike ride along the shoreline, indulge in a romantic beachfront dinner, or witness the mesmerizing sunset over the San Diego skyline. A visit to the historic Hotel del Coronado, with its Victorian charm, adds an extra layer of sophistication to your romantic escapade.
Culinary Journey of Love in Little Italy
Little Italy, one of San Diego's trendiest neighborhoods, beckons with its culinary delights and vibrant atmosphere. Here you will find charming cafes, trendy restaurants, and colorful boutiques. Stroll hand-in-hand down lively India Street, taking in the strings of lights zigzagging overhead and the scents of fresh pasta and pizza wafting out of the restaurants.
As the sun starts to set, make your way over to the Waterfront Park, where you can sit shoulder-to-shoulder admiring the dazzling colors reflecting off the bay. For dinner, snag a table outdoors at one of Little Italy's Italian restaurants to savor wine, pasta, and each other's company in the balmy evening air.
After dinner, there are plenty of hidden little alleyways and quiet side streets perfect for an after-dinner romantic stroll. Stop on a bridge overlooking the harbor to steal a kiss or few. With authentic old-world ambience, intimate outdoor dining, and plenty of little romantic hideaways, Little Italy is one of the best neighborhoods in San Diego for a date night filled with Dolce Vita.
Nature is Everything - Torrey Pines State Natural Reserve
For an awe-inspiring display of nature's beauty, head to Torrey Pines State Natural Park. This coastal wonderland boasts dramatic cliff formations and panoramic views of the Pacific Ocean. Start the day with a moderate hike up one of the trails, like the Guy Fleming Trail or Beach Trail, stopping frequently to admire the stunning cliffside views of the ocean below and steal a few kisses along the way.
Once you reach the top, find a private scenic overlook on the cliffs where you can spread out a picnic blanket and snuggle up to share some wine and cheese while watching the waves crash below you. As the sun begins to set, head back down the trail hand-in-hand, keeping your eyes peeled for the green flash as the sun dips below the horizon.
End the evening with a relaxing stroll along the beach, letting the foamy waves tickle your toes as you exchange stories and sweet nothings under the twilight sky. With its mix of outdoor adventure, picture-perfect ocean views, and plenty of cozy private spots, Torrey Pines is one of the most spectacular, unique, and best date spots  San Diego has to offer.
Urban Exploration in Gaslamp Quarter
The historic Gaslamp Quarter in downtown San Diego is a lively district brimming with energy, making it an excellent choice for a date night filled with excitement and entertainment. 
You can start the evening off by meeting for happy hour cocktails at one of the neighborhood's stylish rooftop lounges, which offer fantastic views of the city skyline for you to take in while breaking the ice. 
After drinks, enjoy a gourmet dinner at one of the area's celebrity chef restaurants, many of which offer outdoor patio seating ideal for gazing into your date's eyes over candlelight.
To end the night, enjoy live music performances, comedy shows, or theater productions that add an element of sophistication to your urban date night.
Switching up the theme for a date night is the best way to keep things interesting. Explore a new spot, try out a new restaurant. Be a tourist for the night and make it your mission to just simply enjoy the company of your date.
If you're looking to find love, consider giving Sophy Love San Diego matchmaking services a try. With their team of dating coaches and expert matchmakers, you might just find the perfect match to explore all the romantic places in San Diego with.