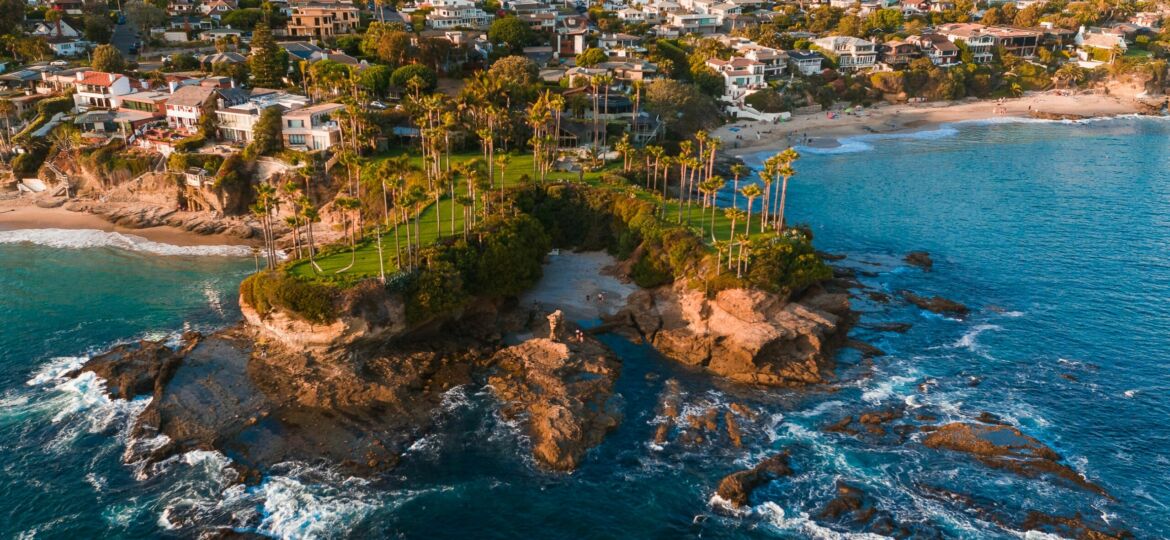 5 minute read –
Orange County, California is a captivating destination for couples seeking a romantic date. This sun-kissed region offers an array of amazing restaurants, fun activities, and unique things to do. From the stunning beaches to the vibrant city life, Orange County has some lively hotspots for an unforgettable date experience. Here are 6 different great date ideas to create some fantastic memories.
Sunset Romance at Crystal Cove State Park
Crystal Cove State Park is a picturesque gem with its sandy coves and shimmering waters. With beachside cafes and charming cottages dating back to the 1930s, this park exudes an old-world charm perfect for a dreamy date. Pack a picnic, or grab some takeout and watch the sun dip below the horizon while enjoying some amazing quality time with your date. Check out our list of things to talk about on a first date and really get to know each other.
Art and Culture at the Laguna Beach Art Walk
Laguna Beach is known for its vibrant art community. Enjoy a stroll through the streets, admiring the numerous art galleries that showcase the works of talented local artists. The monthly first Thursday art walk adds an extra layer of creative excitement with live music and wine tastings. The art walk is a wonderful opportunity to share your thoughts and imagination, creating a deeper bond between you and your date.
For a classic and romantic date, head to Balboa Island, a serene oasis in Newport Beach. Accessible by a short ferry ride, the island offers breathtaking views of the harbor and an abundance of activities. Rent a tandem bike and pedal along the waterfront, indulge in delectable ice cream at one of the local parlors, or browse unique boutiques. To cap off your perfect date, take a romantic gondola ride through the charming canals, where you can cozy up together and enjoy the serenity of the surroundings.
Fairy-Tale Fantasy at Disneyland
Embrace your inner child and experience the magic of Disneyland with your date. The best way to have fun on a date is to become a big kid again. Step into the world of fairy tales and enchantment, as you explore the iconic Sleeping Beauty Castle and take a couple of thrilling rides together in the amusement park.
The fireworks display over the castle is a spectacle that embodies romance and lasting memories. Indulge in delectable treats and dine-in-themed restaurants to complete your fairy-tale day. Disneyland, being among the top fun date ideas in Orange County has to offer, is more than just a theme park and is definitely a fun spot for people of all ages, including adults!
Starlit Romance at the Queen Mary
Step aboard the iconic Queen Mary for a night of live music and dancing. This historic ocean liner, now a hotel and entertainment venue, hosts a variety of events, including live music performances and themed parties.
Dance the night away on the deck under the stars, surrounded by the allure of romance and history. The Queen Mary's elegant and nostalgic ambiance adds a touch of sophistication to your Orange County date night, making it a captivating and elevated experience.
Culinary Adventure at Anaheim Packing House
Anaheim Packing House is a food lover's paradise and an ideal spot for a date filled with culinary delights. This historic citrus packing warehouse has been transformed into a multi-story gourmet food hall, boasting an array of eclectic cuisines and trendy eateries.
Enjoy small plates from unique vendors, all while getting lost in culture and conversation. The lively atmosphere and live music set the stage for an incredibly fun date.
Whether you're getting out in nature, enjoying some arts and culture, or getting lost in the incredible Orange County food scene, finding fun and unique activities to do on a date will be sure to leave a lasting impression. Dating is supposed to be fun and adventurous, so get creative, explore, and dare to try something new. 
If you're looking for Orange County date night ideas and aiming to find love, consider giving Sophy Love's Orange County High End Matchmaking Services a try. With their team of dating coaches and professional matchmakers, you might just find the perfect match to share all your adventures with.