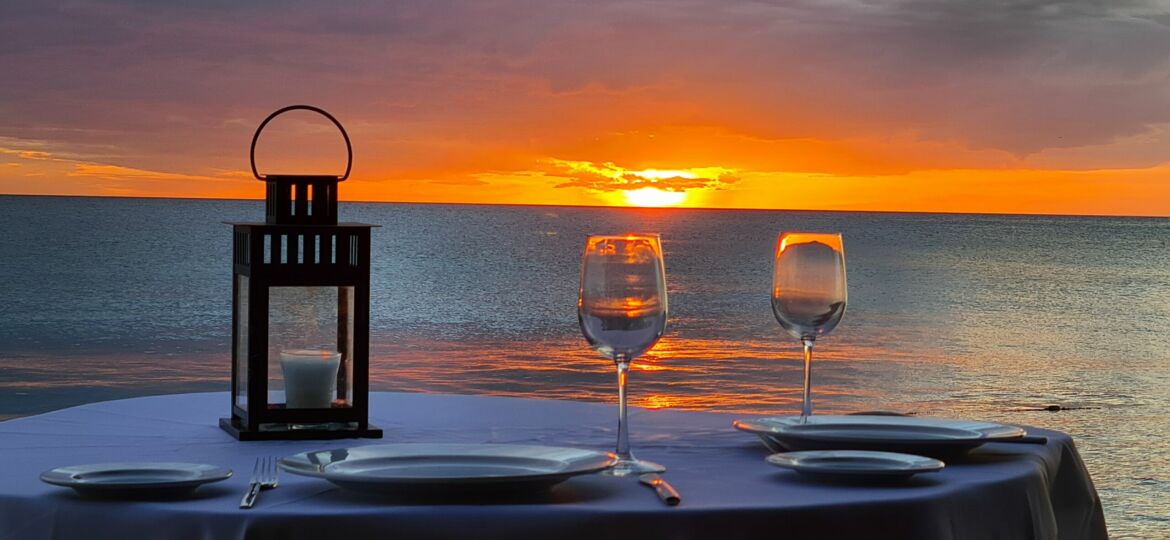 5 minute read –
Ah, the romantic dinner. Is there anything more quintessentially romantic than cooking a delicious meal with your significant other and then enjoying it together over candlelight?
Whether you're just starting out in a relationship or you've been together for years, a romantic dinner for two is always a great idea. But what should you make? Fear not, my lovestruck friends, because I have compiled a list of romantic dinner ideas that are sure to impress your date.
This classic Italian dish is a great choice for a night in, because it's simple to make, yet still elegant and delicious. The creamy sauce and salty pancetta are sure to please even the pickiest of eaters. Spaghetti carbonara is the perfect recipe for a romantic date because nothing says "I love you" like coating your partner's arteries with a rich, creamy sauce made from eggs, bacon, and cheese. Plus, the slurping sounds you'll both make while twirling your noodles will be the ultimate aphrodisiac. Just make sure to have some mints handy, because garlic breath is not exactly conducive to a steamy make-out session.
Nothing says "romantic dinner" like a perfectly cooked steak. Pair it with a rich mushroom sauce, and you've got a meal fit for a king (or queen). Cooking steak with mushroom sauce is the ultimate romantic date recipe. Not only does the sizzling sound of the steak on the grill set the mood, but the intoxicating aroma of the sautéed mushrooms will have your date weak in the knees. And let's be real, who doesn't love a good steak? It's like the universal language of love, except instead of words, you're speaking in medium-rare temperatures.
Plus, if you're feeling fancy, you can impress your date with your knowledge of wine pairings. Just remember to decant the bottle and give it a good swirl, because nothing says "I'm classy" like looking like you know what you're doing with a bottle of wine. Just be careful not to accidentally set the curtains on fire if you're searing your steak to perfection. All in all, cooking steak with mushroom sauce is the perfect way to show your date that you're both sophisticated and down-to-earth. Or at least, you know how to cook a damn good steak.
If you really want to impress your date, go all out with this decadent lobster risotto. Creamy, cheesy, and loaded with fresh seafood, this dish is sure to leave a lasting impression. Lobster risotto is the perfect recipe for a romantic date because nothing says "I love you" like bonding over a shared fear of accidentally cracking open a lobster claw and getting squirted in the eye with lobster juice. Plus, nothing gets the heart racing like the possibility of overcooking the risotto and ruining the whole dang thing. So, if you and your partner can survive the challenges of lobster risotto, you know your love can withstand anything – even a bad case of seafood-induced indigestion.
Another classic Italian dish, chicken Marsala is a great choice for a date because it's both comforting and sophisticated. The sweet, earthy flavor of the mushrooms pairs perfectly with the tender chicken. Nothing says romance like a plate of tender chicken smothered in a rich mushroom and wine sauce. But what makes this dish so perfect for a romantic date? Well, for starters, it's an easy  dinner to make. Even if you're a terrible cook, you can impress your date with this dish without breaking a sweat. And if things go wrong, just pour more wine into the sauce and call it a day.
But that's not all. Chicken marsala is a dish that's meant to be shared. Just like love, it's all about giving and receiving. So go ahead, take a bite of that succulent chicken breast and offer your date a forkful. If they're the right one, they'll happily oblige. And if they're not, well, at least you have some delicious food to console you.
And let's not forget about the wine. Chicken marsala pairs perfectly with a glass of red wine, which is known to have a relaxing effect on the body. So after a few sips, you and your date will be feeling nice and mellow, ready to snuggle up on the couch and watch a romantic movie.
In conclusion, chicken marsala is the perfect recipe for a romantic date. It's easy to make, meant to be shared, and pairs perfectly with a glass of wine. So go ahead, light some candles, put on some Barry White, and get cooking. Love is in the air, and it smells like chicken marsala.
Mussels in white wine is a dish that's both classy and tasty! Not only does it sound fancy, but it's also a dish that encourages sharing and intimacy. Just picture it: you both leaning over a big bowl of steaming mussels, slurping up the succulent bivalves and sipping on the wine broth. It's the perfect excuse to get up close and personal with your date, without the awkwardness of trying to feed each other spaghetti like in Lady and the Tramp.
There's something about mussels in white wine that just screams romance. Maybe it's the fact that they're a seafood dish, and seafood is always associated with special occasions. Or maybe it's the fact that they're cooked in a creamy white wine sauce, which is just so luxurious. 
Finally, the mussels are rumored to have aphrodisiac properties! That's right, these little sea creatures are rumored to be a natural libido booster, thanks to their high levels of zinc and amino acids. Whatever the reason, mussels in white wine is a dish that's sure to impress your special someone.
Of course this post would not be complete without suggesting the ultimate comfort food. Pizza can be customized to suit any taste. It's also a fantastic option for a romantic dinner because it's easy to make together, allowing you to bond over the process of rolling out dough, spreading sauce, and adding toppings. Plus, you can get creative with the toppings, adding your favorite ingredients to make it unique and special. Whether you opt for classic Margherita or pile on the pepperoni, pizza is sure to bring a smile to your partner's face and make for a fun and delicious date night. So, grab your aprons and get ready to whip up a tasty pie that's perfect for sharing!
What makes cooking together so fun?
Now, you may be thinking, "Sophy, why should I bother cooking for my date when I could just go out to a fancy restaurant?" Well, my dear reader, let me tell you why cooking together is such a great way to bond.
First of all, cooking is a great way to connect with your date on a deeper level. Not only are you working together to create something delicious, but you're also learning about each other's likes and dislikes when it comes to food.
Secondly, cooking together can be a lot of fun! There's something so satisfying about creating a meal from scratch, and it can be really rewarding to see the finished product on your plate. Finally, cooking for someone is a great way to show them that you care. It takes time and effort to prepare a meal, and your date is sure to appreciate the thought and care that went into it.
In conclusion, finding the perfect dinner ideas for two can be a great way to show your partner how much you care. From romantic Italian dishes like spaghetti carbonara to savory chicken marsala, there are plenty of options to choose from that are sure to please any palate. If you're looking for more personalized recommendations or advice on planning a romantic evening, consider reaching out to Sophy Love.  As a professional matchmaker and dating coach, Sophy Love can help you not only find the perfect dinner ideas but also create a truly special and memorable experience for you and your partner. Whether it's a first date or a special anniversary, Sophy's executive matchmaking services can provide you with the guidance and support you need to make your evening unforgettable.
So there you have it, folks. Grab your favorite bottle of red or white wine, get your aprons on and bon appetit!