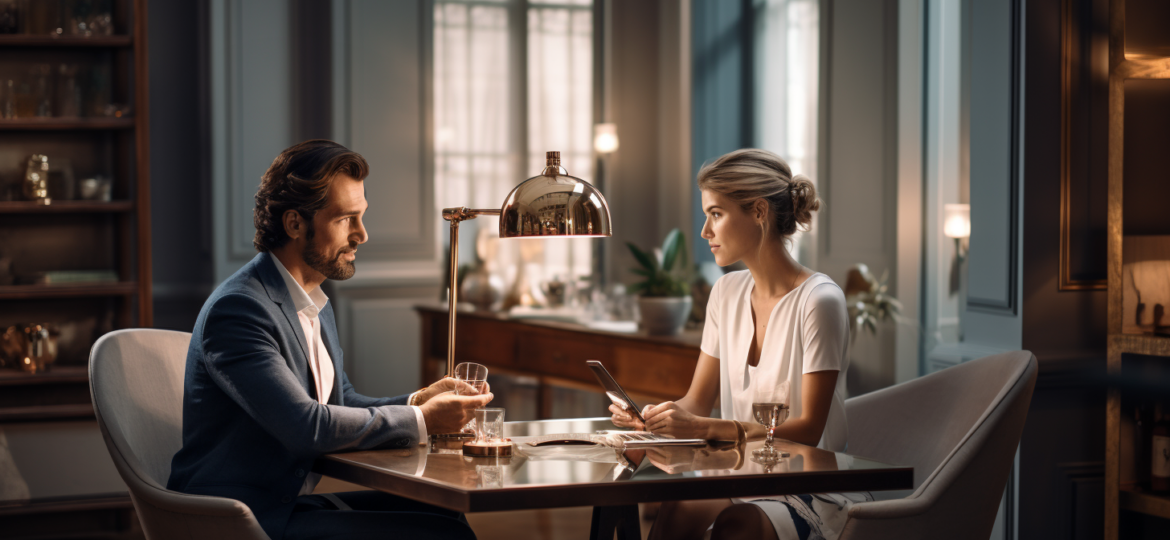 13 minute read –
In today's fast-paced digital world, swiping left or right has become the norm on how we judge, select, and date a potential partner. Online dating apps are leaving users feeling deflated and finding meaningful connections in the online dating world now feels like searching for a needle in a haystack. Fortunately, matchmaking is here to disrupt the conventional dating landscape, offering a more mindful and purpose-driven approach to finding love.
Matchmaking is the art of connecting individuals based on shared values, interests, lifestyles, and attraction. Unlike traditional online dating, where algorithms and superficial profiles play a central role, professional matchmakers interview candidates, conduct background checks, and pre-screening before presenting an aligned match. These skilled experts delve deep into the personalities, preferences, and life goals of their clients to create and help find more meaningful connections.
Conscious Matchmaking vs. Traditional Matchmaking
The digital age brought a plethora of opportunities to connect with people worldwide, but it also introduced challenges like ghosting, catfishing, online scammers, and an overwhelming number of options. Conscious matchmaking seeks to address these issues by fostering genuine, mindful connections that prioritize quality over quantity.
Conscious matchmaking encourages individuals to approach dating with a heightened level of self-awareness. It's about understanding your desires, values, and relationship goals, and then finding someone who aligns with those parameters. Instead of swiping mindlessly, people are encouraged to reflect on what truly matters to them in a partner. 
Conscious Matchmaking vs. Dating Apps
Online dating apps often prioritize superficial factors like appearance and a brief bio. Conscious matchmaking goes beyond these surface-level attributes, considering factors such as shared values, life goals, and long-term compatibility. This shift helps individuals connect on a deeper level, leading to more meaningful dates and the potential for long-term relationships.
Matchmakers take a personalized approach to finding suitable partners. They spend time getting to know their clients on a personal level, ensuring that potential matches have the qualities and values that align with the client's preferences. This tailored approach increases the likelihood of finding a compatible partner and cutting down the wasted time spent on dating apps.
Unlike online dating apps that inundate users with an excess number of potential matches, matchmaking services focus on quality over quantity. They present clients with carefully selected matches, reducing overwhelm and decision fatigue.
Benefits of Conscious Matchmaking
1. Improved Compatibility
Matchmakers leverage their expertise to identify compatible partners, increasing the chances of successful and long-lasting relationships. By prioritizing compatibility, individuals are more likely to connect with someone who genuinely complements their lifestyle and values.
2. Greater Accountability
Matchmaking services hold both parties accountable for their actions and commitments, reducing the likelihood of ghosting or disingenuous behavior. The personal connection between the matchmaker and the client encourages open and honest communication.
3. Enhanced Safety
Matchmaking services often conduct background checks and verify the authenticity of their clients, ensuring a safer dating experience. This added layer of security can be especially reassuring in the online dating world.
4. Reduced Stress
The overwhelming choices and uncertainty that come with traditional online dating can lead to anxiety and stress. Conscious matchmaking alleviates these pressures by presenting carefully vetted matches, making the dating process more enjoyable and less stressful.
5. Time-Efficient
For busy professionals or individuals with limited free time, conscious matchmaking streamlines the dating process. Matchmakers do the legwork of finding suitable matches, saving clients time and effort.
The Mindful Approach to Dating - Stop failing and start succeeding
Sophy Love employs a group of matchmakers skilled in various modalities and coaching specialists to bring mindful and conscious dating to a higher standard. By infusing coaching, in-person live events, and authentic relating workshops, clients and members can study themselves on a deeper level, address potential roadblocks, and find like-minded partners who want something more intentional and long-lasting. 
Here are some tips for adopting a mindful approach to dating:
1. Self-Reflection
Take the time to understand your own desires, values, and relationship goals. Knowing what you want in a partner is essential for making meaningful connections.
2. Communication
Open and honest communication is key in any relationship. Be transparent about your intentions, expectations, and boundaries.
3. Be Present
When you're on a date, be fully present and engaged in the moment. Put away your phone and focus on getting to know your date.
4. Trust Your Instincts
Pay attention to your gut feelings. If something doesn't feel right, it's okay to walk away from a potential match.
5. Seek Professional Help
If you're struggling with dating or have specific preferences, consider working with a professional matchmaker who can provide personalized guidance.
Conscious matchmaking is changing the online dating world for the better by prioritizing self-awareness, compatibility, and mindfulness. It offers a more personalized and purpose-driven approach to finding love, addressing the challenges and pitfalls of traditional online dating. It provides a highly valuable alternative for those seeking genuine and lasting partnerships. Ultimately, by approaching dating with mindfulness and intentionality, individuals can create more fulfilling and satisfying connections in the ever-evolving world of online dating.
Sophy Love was recently named  one of the Top Matchmaking Agencies in California. Check out the Top Matchmakers in California here: https://www.datingnews.com/daters-pulse/10-best-california-matchmakers-of-2023/#sophy