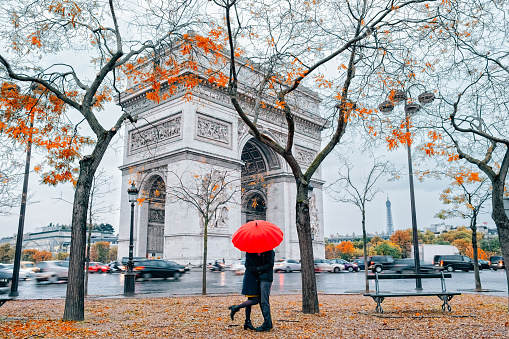 We love a good Netflix binge and cuddles on the couch just like the next person, but a rainy day should not put a damper on your date and confine you to doing only that.
In need of some inspiration for your unexpected backup plan? Let's explore a few rainy date ideas for both newly dating individuals and couples that will have you wishing this was your original plan and that the sun won't come out. 
Create a Fabulous Meal 
Nothing brings people together more than sharing a home-cooked meal. You know, what is there to not love? There is something so romantic about preparing and cooking a meal while getting the conversation flowing between you and your partner. Plus, you would be surprised to learn how many conversation starters come from hanging out in the kitchen while cooking.
Don't think you're going to be the next MasterChef? Don't stress. This is the perfect opportunity to take on a tough or time-consuming recipe that you don't normally have time for, or learn some new cooking tips and tricks.
To add to the already-romantic ambiance, don't forget to light the candles and grab a nice bottle of wine to share with someone just as special. 
Visit an Art Gallery or Museum 
Not quite ready to bring your significant other to your home just yet? We got you covered.
Any Hollywood movie ever will tell you that visiting an art gallery or museum is the epitome of romance… And they aren't wrong.
Between the dim-lit atmosphere and creative inspiration that art galleries and museums provide, establishing a deeper intellectual connection with your date is inevitable.
Galleries and museums can evoke a variety of emotions, which will have you likely discovering a plethora about your date just discussing what you connect with certain pieces. Nothing sparks a conversation quite like stopping in front of a display and asking, "What do you think this means?"
Plus, it will eliminate the pressure to think of something interesting to chat about on your second or third date.
Need a place to start? Check out the Laguna Beach Art Galleries that feature over one hundred art galleries and studios to explore! 
Wine and Craft Night  
Have you exhausted all possible date ideas on the first few dates, and now want to treat your special someone to something less generic than dinner or a movie night?
That's where a wine and craft night steps in.
Gaining popularity over the last few years, wine and craft nights are the perfect opportunities to cozy up inside and get creative with this social and memorable activity.
You may be thinking that you and your partner are not artistic or you've never painted before, but you would be surprised to find out how much fun a wine and craft night can truly be. You and your partner get to laugh, talk and spend time together as you step outside of your comfort zone and create quality memories with one another.
Plus, your crafts might become the mementos you share for years to come.
If you are in the San Diego or Los Angeles area, check out the Liberty Station Paint & Sip Studio where you can enjoy one another's company in a step-by-step class that features a different craft each night. 
Play!
So you recently stepped back into the dating pool and want to get to know a little bit more about the person you're seeing before taking it to the next level.
Believe it or not, tapping into your playful side does the trick.
Game nights are the perfect way to not only tap into your competitive side but spice up your dynamic with one another.
The ability to bring fun into the relationship not only spices up your union but also creates room for bonding and connection. A little friendly competition can draw the two of you closer, and you can get a better sense of each other's personalities with the help of a few games that were once a childhood favourite.
The true fun? Enjoying each other's company.
If you happen to be in the San Diego area, check out the original Coin-Op Game Room and enjoy an array of cocktails mixed with your favourite nostalgic arcade games.
Looking to win date night? Take your plans to the next level with bowling! Check out Bowlero for a location near you, and get ready for a night of good food, silly bowling shoes, and lots of laughs.
Whether you're new to the dating scene or looking to get to know your partner a little better, an unexpected rainy day should not be the deciding factor.
Here at Sophy Love, we are all about creating the perfect date for you and your special someone. We believe that our success is tied to your success, and a little rain shouldn't stop you from creating genuine connections. 
We hope that the rainy day date ideas we shared above will help you to deepen the connection between you and your partner, and have you looking forward to rainy days.
Interested in learning more? Contact us to get started on your journey, and work with us to find the services best suited for your needs.