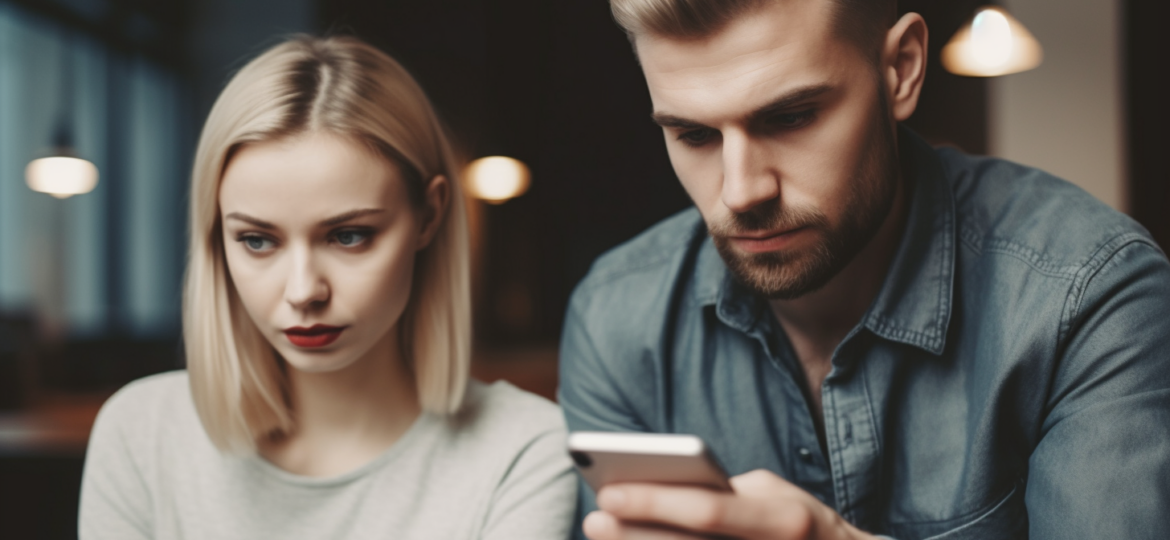 7 minute read – 
If you've ever used a dating app or website, you know how frustrating they can be. Sure, there are plenty of profiles for you to swipe through, but the process of matching with serious dating prospects is often slow and inefficient. If you're looking for love and not having luck with dating apps, you may be asking yourself why dating apps don't work for you. However, it may not be all your fault. As ironic as it sounds, most modern dating apps are not designed to help you find love; they're just built to find pairings.
Think about the last time you used a dating app—how did it work? What criteria does its algorithm prioritize? If you don't know the answer, you aren't alone. Most people think it's as simple as downloading an app and swiping through potential matches, but in reality, the app decides who sees you, when they see you, and who it recommends to you based on a series of factors. 
Dating apps have become more popular than ever in recent years, but are they right for everyone? There are many reasons why using dating apps alone to propel your search for a serious relationship may not give you the results you want. 
The Algorithms Behind Dating
Dating platforms haven't always been reliant on algorithms to help people find love, but since eHarmony created and patented the first dating app matching algorithm in 2000, they have become the norm. In a study released at the end of 2019, 77% of people surveyed reported they had gone on a date with someone they met thanks to a dating app algorithm.
While eHarmony created its own algorithm, many apps rely on existing methods they've simply repurposed. Tinder, for instance, used to base their algorithm on the Elo rating system, which was used to rate chess players. However, at least according to Tinder, the Elo score is no longer used in its original form to rank profiles. Another dating app, Hinge, uses the Gale-Shapley algorithm. This algorithm was designed to solve the stable matching problem and can be used in many scenarios such as organ donations, college admissions, and of course, marriage. Other platforms, such as OKCupid, simply measure compatibility as a percentage based on your profile preferences. 
Each dating app may work a little differently behind the scenes, but as a user, you've likely noticed some similarities. Once you sign up, you present some information about yourself, and then the app will suggest people who may be a good match for you. The longer you're on an app, the more data the algorithm can gather on you and your preferences, and it uses that to improve its recommendations. 
5 Reasons Why Dating Apps Don't Work For You
You may think the art of succeeding on a dating app is based on learning how the algorithm interprets your decisions, but dating apps are always tweaking and updating the algorithms they use, which makes learning how to use their systems complicated. However, most dating app algorithms are designed to find matches in similar ways: 
Collect Data:

To get the information needed to find a match, dating app algorithms need to collect as much information about a user as possible.

Identify Behavioral Patterns

: Alongside the information a user provides, algorithms will collect usage data to identify behavioral patterns, such as if you swipe left on certain matches more than others.

Generate Matches:

By combining the data provided with the patterns identified, the algorithms are able to generate matches efficiently. 
This might seem like an efficient way to find similar partners quickly, but algorithms can actually be a very poor solution to the conundrum of romantic partnerships. If you're wondering why dating apps don't work for you, it's probably due to one or more of these reasons.
They Focus Only on What Has Worked, Not What Could Work
How many times have you logged in to your favorite app, swiping left or right, and seen someone who looks like your ex? Or who looks just like the five people you swiped right on previously? While having a type is all well and good, sometimes it's not enough to just be someone's physical type. You might be interested in trying something new and different. While dating apps try to predict who you might like, they can only base their predictions on what worked in the past. Because the algorithms behind dating apps are designed to match you based on your stated interests, location, your zodiac sign and other preferences, they can limit the potential matches you see, leading to you dating the same types of people repeatedly.
Algorithms Can Only Take So Many Factors Into Account
When it comes to the algorithms that power most dating apps, they can only do so much. They're not an oracle of love; they're a set of guidelines and rules. And while they'll be able to match you with similar people, they don't have access to everything you want in a partner. That's because dating apps rely on a series of questions that produce answers that are difficult to parse—and even more difficult to predict. 
For example, if someone says they want someone who is smart, funny, and attractive, what does that mean? Does it mean they value intelligence over looks? Or is intelligence just one aspect of attractiveness? How important is being funny? And what about substance over style? These questions aren't always easy for us to answer ourselves, much less for an algorithm. This leads to a lot of missed connections that a human being may not have missed.
People Aren't Rational, And Algorithms Find That Confusing
Many dating app users have experienced the frustration of matching with someone they thought was perfect…only for the first interaction with them to be a disaster. People, as it turns out, are not always rational or predictable. This is why many believe that algorithms just don't work: as humans, we are constantly making decisions based on our emotions rather than purely logical analysis of facts and data points—and these algorithms rely on cold hard facts alone. 
Many dating app algorithms have no way of accounting for this sort of human unpredictability. If a user thinks they want one type of person and yet swipes left on all profiles that match their criteria, then the algorithm won't have a way of understanding this information and will just continue to show potential matches that don't meet their needs as determined by their profile and search preferences.
You Don't Feed It Enough Data
Unfortunately, one reason why dating apps don't work is that they rely on users actively engaging with the app in order to collect enough data about them so it can match them with compatible people. The more data it collects, the better its suggestions will be. If you're only using the app every once and a while and then deleting your account for months at a time, the app will never have enough information about your behaviors or preferences to show you anyone who could be compatible. Since not everyone has the time or patience (or interest) to do this consistently over long periods of time, many people end up feeling frustrated and give up when they realize their efforts haven't yielded any results.
Why Don't Dating Apps Work? They Lack the Human Element
While dating apps can be extremely helpful in making your dating experience more efficient, they might not be the best option for everyone. If you're looking for a long-term relationship, or if you have specific needs that aren't met by most dating apps, then it's time for you to look for some outside help. That's where a professional matchmaker can come in. A professional matchmaker makes online dating work because they are able to pair people based on more than just basic common interests. 
At Sophy Love, your journey will begin with a one-on-one intake meeting where we can get to know you, your lifestyle, your values, and what you want from your future partner. At Sophy Love, our years of experience have taught us which apps have consistently proven to provide real results, and our dating concierge will work with you to match you to the dating apps that fit your wants and needs. Then, we help you revamp your profile content and photos for maximum impact. We are so confident that online dating can be a useful tool to help people find meaningful relationships that we are creating our own Closer events and a new app, Spot.Love, which reimagines online dating by bringing the matchmaking process right to your smartphone. 
Understanding why dating apps don't work for you doesn't make them any easier to use, but luckily, you don't have to navigate the dating scene alone. If you're serious about finding a long-term relationship, Sophy Love is here to help (both online and off). To get started, look through our services and let us know how we can best meet your needs.